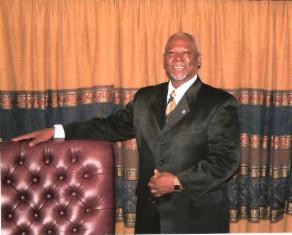 Algie Algie Morgan was born on October 22, 1945 to the late Jack and Vera Morgan at the family home in Forrester, Alabama. He was the 5thchild born to the Morgans. Other children born to the Morgans were Henry Louis, James Wesley, Jessie, Charles, Mary, Jack, Luzell, Larry, and Willie James.
-
He was married to the former Annie Pearl Willis, the oldest daughter of James and Willie Mae Willis on August 14, 1965. Five daughters were born to Algie and Annie Pearl: Melissa, Alisa, Carolyn, Cynthia, and Tammy.
Algie Morgan began his education at Autauga Training School in Autaugaville, Alabama. He graduated from High School in May 1965. Algie Morgan accepted the Lord as his savior and began working diligently in the church in 1979 as a deacon, male chorus member and Sunday School Superintendent. God called Algie to preach His Word and under the guidance of Bishop John S. Baker he grew with wisdom in God's Word and was one of the local ministers. God led Bishop Baker to appoint him to be the assistant pastor and his ministry took off from that day.
He always honored Bishop Baker and humbly followed God and his leader. Bishop Baker continued to lead by example and wisdom and soon appointed Algie to be the Pastor in 1985 while he remained Bishop and Overseer.
Pastor Morgan took on this great task with excitement and continued to work on a full-time job. Bishop Baker became ill and needed to be placed in a nursing home. During this time the entire responsibility of the ministry was placed on Pastor Morgan's shoulders. He continued to honor his leader in everything he did. He asked the Lord not to call Bishop Baker home until he was ready and able to oversee the ministry.
In 1995, the current church building had structural issues and God led Pastor Morgan, with Bishop Baker's approval, to build a new church. God's hand was on the plans and the entire process. The church was built in 1996 and in 1999 God blessed the church mortgage to be paid in full and Pastor Morgan prayers were answered to keep the church debt-free.
In 2002, God called Bishop Baker home at 101 years of age. He left of legacy of holiness. Pastor Morgan was determined to stand for holiness even when it was not popular. He grew in wisdom and maintained a holy life. God called him to be the full-time Bishop and he stepped out on faith.
He also stepped into the office of Bishop in ­­­­­­2004 and continued to lead the church into holiness on the same foundation that Bishop Baker had begun.
Today, the ministry is thriving under Bishop Morgan. He is known in the community for his smile and kindness. He is also known for living a holy lifestyle. He is a pastor to the members of the Father Son & Holy Ghost Church and also the community.
He established God's Kitchen in 2004 after having an annual Thanksgiving Dinner to feed the needy and homeless in the community. God spoke to him and told him that if people are hungry one day, they are hungry every day. God's Kitchen has been in operation since that day providing 4,000 to 5,000 hot meals every year.
Bishop Morgan's vision in 2009 is to reach people for Christ. His desire is to teach the congregation to win souls to Christ and reach people no matter what race, culture, creed or background.
One of Bishop Morgan's favorite scriptures is 2 Chronicles 7: 14, "If my people, which are called by my name, shall humble themselves, and pray, and seek my face, and turn from their wicked ways; then will I hear from heaven, and will forgive their sin, and will heal their land."
.