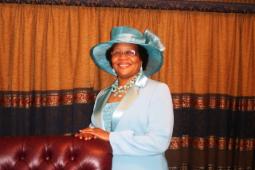 Annie Pearl Morgan was born on July 5, 1947 to the late James and Willie Mae Thomas at the family home in Autauga County, Alabama. She was the 3rd child born to the Willis'. Other children born to the Willis' were James, Willie James, Arthur, Leon and many more.
She was married to Algie Morgan, the next to the youngest son of Jack and Vera Morgan on August 14, 1965. Five daughters were born to Algie and Annie Pearl Morgan Melissa, Alisa, Carolyn, Cynthia, and Tammy.
Annie Pearl began her education at Autauga County Training School in Autaugaville, Alabama. Her education did not end with training school. She continues to increase her knowledge in God's Word and loves to teach what she has learned to others.
Annie Pearl received the Lord as her savior and was filled with the Holy Ghost in 1974 at age 24 after listening to her sister-in-law Mary speak at the Father Son & Holy Ghost Church. She joined the Father Son and Holy Ghost Church and was mentored by Mother Jessie Harris. Annie Pearl began working diligently in the church and became the Young Adult Choir President.
She accepted the call of God to be His missionary. Her boldness in the Lord and willingness to do His will caused her to excel and grow in the ministry very rapidly. She continued to speak boldly for the Lord and inspired many people in her family and the community to live a holy life.
She had been praying 5 years for Algie to receive the Lord as his savior and in 1979 her prayers were answered. He saved and filled with the Holy Ghost. He joined the Father Son & Holy Ghost Church and began working in the ministry.
Annie Pearl continued to grow in the Lord with her husband by her side. Because of the wisdom and gifts in her, she was appointed Junior Mother Morgan under Mother Jessie Harris.
Her husband continued to grow and move up in the ministry from deacon, Sunday school Superintendent, and male chorus member. He accepted God's call into the ministry and became a local minister. Bishop Baker appointed him to be the Assistant Pastor and he later became Pastor.
Mother Morgan's new role as First Lady brought on a greater task as she was a Pastor's wife. She began to teach the young women along with Mother Harris. Her boldness for the Lord gave her many opportunities to be His witness.
Today, First Lady Morgan continues to lead the women, now called the Women of Integrity. Her goal is to teach the women how to live holy. For single women she strives to teach them how to sanctify themselves and live holy until God sends their husband. For the married woman her goal is to teach them how to be submissive to God and their husbands.
First Lady Morgan is even more powerful today. Two of her favorite scriptures are 2 Timothy 2:15, Study to show thyself approved unto God, a workman that needeth not to be ashamed, rightly dividing the word of truth and St. John 5:39, Search the scriptures for in them ye think ye have eternal life; and they are they which testify of me.